Royal Arsenal Riverside is closely connected to everything the Capital has to offer, making it one of the most well-connected communities in London.
Royal Arsenal Riverside's surrounding neighbourhoods include the glorious green open spaces at Greenwich and historic backstreets at Blackheath. Enjoy Canary Wharf and the world-class entertainment at the O2 by boat or train.
The City of London surrounds the iconic St Paul's Cathedral but is just one of two global financial centres only minutes from Royal Arsenal Riverside.
With the forthcoming on-site Crossrail station, journey times into the City, West End and Heathrow Airport will be faster than ever before. Canary Wharf's iconic skyline is visible from riverside balconies and can be reached via Uber Boat, DLR or Crossrail*. The nearby London City Airport flies as far afield as New York meaning business travellers can benefit from direct links to Europe and the world's key business destinations. Whether travelling for business or leisure, residents can arrive at Heathrow in under an hour via the Crossrail.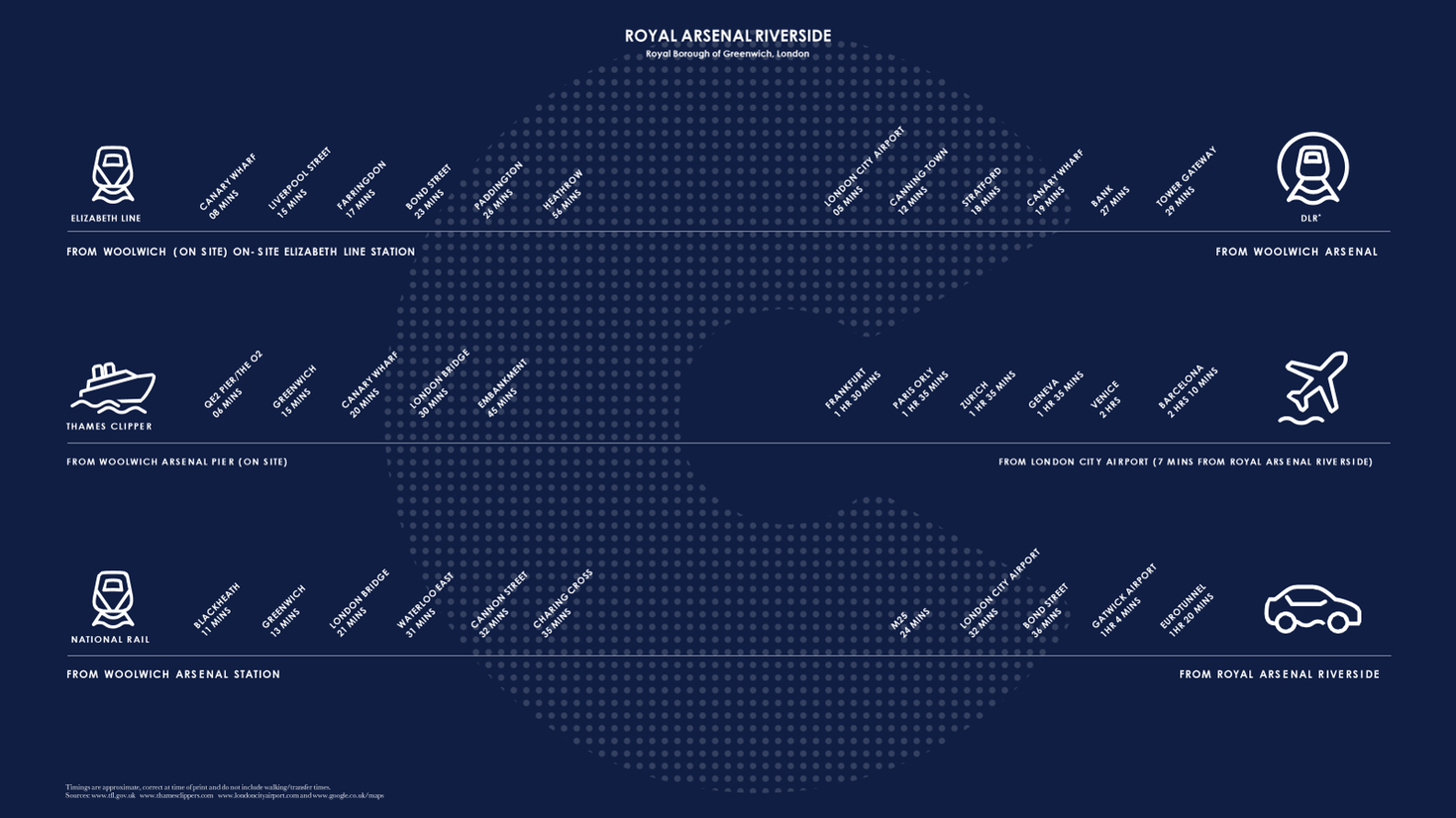 From the finest Michelin-starred restaurants and exclusive bars to award-winning theatre, entertainment, arts and culture, fashion and shopping – London's choices seems never-ending. The West End is a mere 21 minutes away* via Crossrail from Royal Arsenal Riverside. There is also a number of on-site pubs, bars and restaurants, as well as a choice of supermarkets, including Tesco, Sainsbury's Local, and M&S Food Hall.
With an unrivalled choice of transport connections; Crossrail, Overground, buses and river journeys close by, Royal Arsenal Riverside is the ideal starting point for exploring the area's local landmarks, as well as the delights of central London.