An attractive proposition
An independent analysis of forecasts indicates that rental values are liable to grow by 2% over 2020, with compound growth of 12% across South East England by 2024 and 17.5% in London. It is likely that growth across Staines-upon-Thames will fall between these two, as a location that benefits from its close proximity to the commuter belt.
Over 1,100
New business since 2010
Top 10%
Staines-upon-Thames in the top 10% of all UK areas for economic growth potential.
11%
Predicted increase in population aged 25–29 over next 20 years.
58%
Migration into Staines-upon-Thames is from London Boroughs.
The value of regeneration
All Berkeley Group developments are designed to permanently enhance the neighborhoods in which they are located through excellence in design, sensitive landscaping, sympathetic restoration, and impeccable standards of sustainability. We revive underused land, creating a welcoming, sustainable and nature-rich places where communities thrive and where people of all ages and backgrounds enjoy a great quality of life.
In addition to enhancing the quality of life for residents, regeneration and placemaking is often a driver for price growth in residential markets, leading to price growth premiums of between 5% and 10% (CBRE 2018) and Staines-upon-Thames is proving no different.
An attractive proposition
A Magnet For Business
A lure for big-name employers due to its enviable connectivity and links to the Heathrow economy, Staines-upon-Thames is ranked No.1 in the UK for new business start-ups.
Over 1,100 new businesses have set up across the area since 2010.
Part of a high growth cluster in the Enterprise M3 area, a globally competitive partnership based on the digital and design-based economy, levels of employment are high.
Shepperton Studios, famed for Harry Potter and Star Wars and the new home of Netflix, is set for a £500m expansion, creating a further 2,000 permanent jobs and contributing £141 million a year to the UK economy.
For those working from home and communal workspaces, broadband speed is key. With an 87.6% access to ultra-fast broadband, central Staines-upon-Thames is faster than the average of 54.5% across Spelthorne.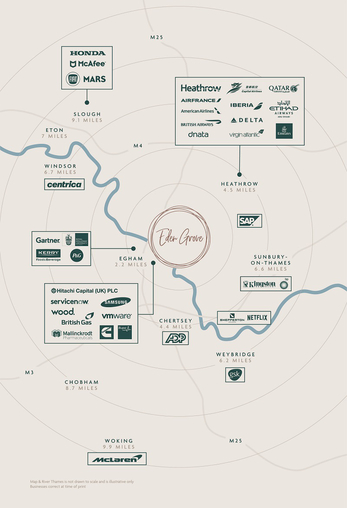 Home to international companies including
PRICES HERE HAVE RISEN BY 22% OVER THE PAST FIVE YEARS,
Compared to just 17% across Surrey and
20% in London.
Education opportunities in the area around Staines-upon-Thames are outstanding. Students of all ages have access to some of the UK's top educational establishments. The heritage of Eton College is 7 miles away and Royal Holloway University is only 2.4 miles away. The area is particularly attractive to overseas and mature students.
21
Independent schools within 6 miles of Staines-upon-Thames
4
Independent schools within 6 miles of Staines-upon-Thames
70%
Graduate retention in London
88%
Royal Holloway University student satisfaction level
23%
Proportion of undergraduate students studying from overseas
40%
Proportion postgraduate students studying from overseas
17%
All students are mature students (age 25+) (dataloft, NSS, HESA)
With Heathrow at your doorstep and easy access to major road networks connecting to Greater London and other key areas, Staines-upon-Thames boasts superb transport connectivity. London Waterloo is just a 35-minute commute by train, with three Crossrail stations in the vicinity set to reduce travel time to Bond Street from 38 minutes to just 26 minutes.
The lure of Staines-upon-Thames
Over the past decade, average prices have grown by 60% in Staines-Upon- Thames, significantly more than other key regional cities. Staines-Upon-Thames, also offers a more attractive environment in which to set up than other regional cities, with a far higher proportion of its population living within the top 20% of the country in terms of education attainment, levels of crime safety, and income comfort. There are also over 3,400 hectares of historic open parks and gardens within an easy commute, offering a wealth of opportunities to enjoy outdoors.