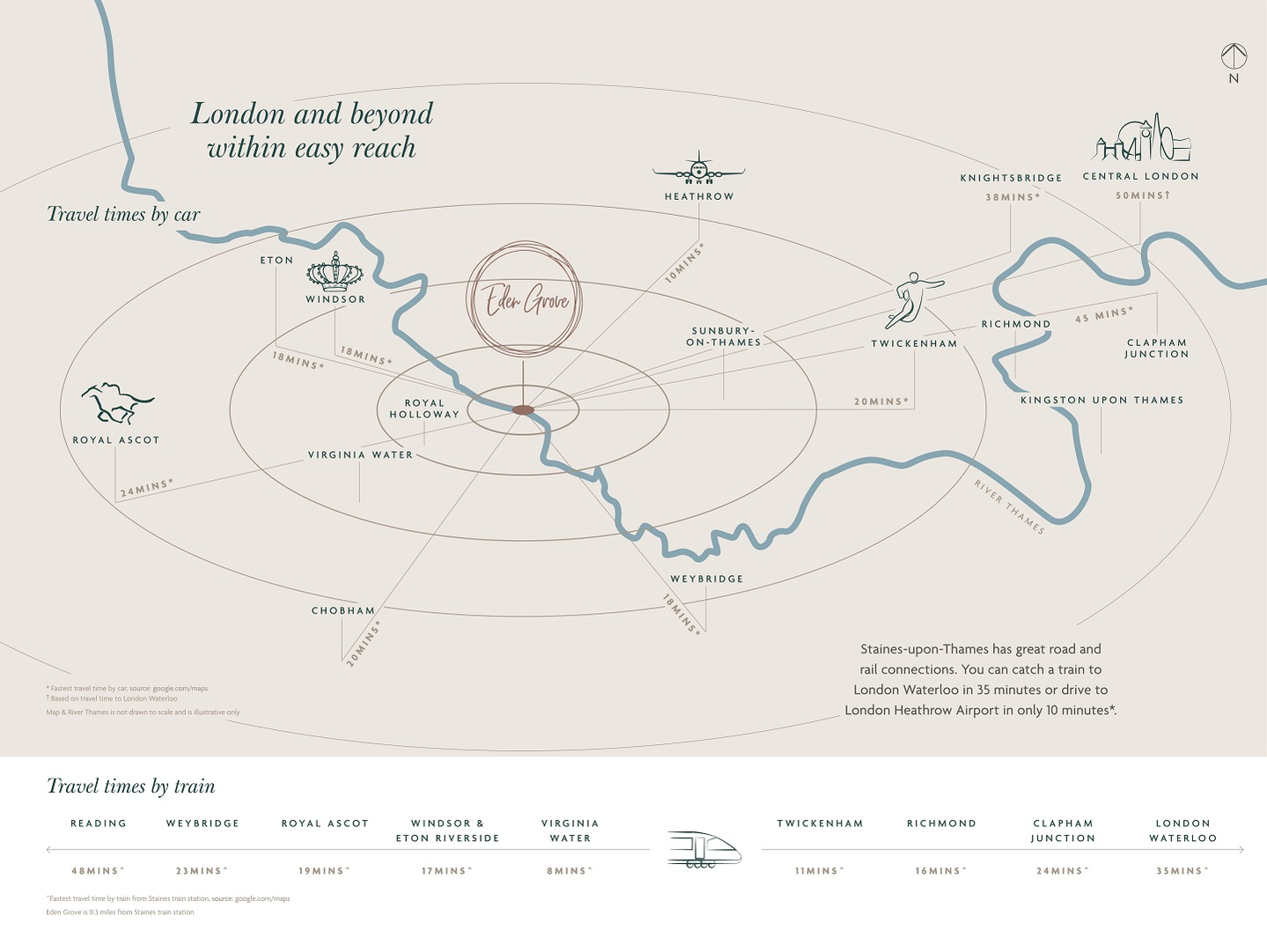 Eden Grove's ideal location sets it up as a convenient and efficient address for the Greater London commuter and frequent flyer. With close proximity to major road networks and easy access to reliable public transport systems, you'll find yourself at places like London Waterloo in just 35 minutes and at Heathrow Airport in just 10 minutes.
The train station is only a 5 minutes' walk away and with Knightsbridge, Bond Street and the West End less than an hour away by train, you can visit the capital's wealth of shops, restaurants and cultural attractions whenever you like.
Staines-upon-Thames is a town set on the River Thames, surrounded by picturesque green space and with a thriving mix of shops, cafés and restaurants. Nearby landmarks and historical towns are filled with hours of entertainment. Windsor and Ascot, with their royal significance, are filled with history and sporting traditions. Back a winner at Royal Windsor Racecourse, watch a colourful regatta at the famous Thames, or head to the Guards Polo Club to enjoy the 'sport of kings'.
Staines-Upon-Thames
Train station
The Heathrow Effect
International connections on your doorstep
Just a 10-minute drive away from Eden Grove lies Heathrow Airport, the busiest two-runway airport in the world - handling 78 million passengers in 2019 alone.
The airport supports approximately 69, 000 jobs generated by over 400 companies. Over half of Heathrow employees reside in its local area. Discussions remain ongoing regarding the development of a direct rail link between Staines-upon-Thames and Heathrow Terminal 5.
78 million
PASSENGERS PER ANNUM
76,000 jobs
SUPPORTED AT THE AIRPORT
203
DESTINATIONS IN 84 COUNTRIES
2
FULL LENGTH RUNWAYS & 4 OPERATIONAL TERMINALS
Europe in under 2 hours*
AMSTERDAM
1 hrs 15 mins
PARIS
1 hrs 15 mins
GENEVA
1 hrs 40 mins
BERLIN
1 hrs 50 mins
COPENHAGEN
1 hrs 50 mins
Europe in over 2 hours*
OSLO
2 hrs 15 mins
MADRID
2 hrs 25 mins
STOCKHOLM
2 hrs 30 mins
ROME
2 hrs 30 mins
LISBON
2 hrs 40 mins
Direct global long haul flight*
DOHA
6 hrs 50 mins
DUBAI
7 hrs 30 mins
NEW YORK
7 hrs 40 mins
HONG KONG
11 hrs 45 mins
SINGAPORE
13 hrs 10 mins
Education
Education opportunities in the area around Staines-upon-Thames are outstanding. Students of all ages have access to some of the UK's top educational establishments. The heritage of Eton College is 7 miles away and Royal Holloway University is only 2.4 miles away. The area is particularly attractive to overseas and mature students.
London School of Economics